Celebrating Exceptional Performance and Outstanding Community Service
TIME, Ally and the NADA are very honored to present the 50th Anniversary of the prestigious TIME Dealer of the Year Award.
As a true mark of excellence, the TIME Dealer of the Year award recognizes exceptional performance and outstanding community service that is an inspiration to us all. By presenting this annual award, TIME, Ally and NADA honor new-car dealerships across America and their tireless efforts to improve their communities and the world around them.
January 25, 2019: TIME Dealer of the Year Awards at NADA Show 2019
TIME and Ally: Celebrating Achievement
Ally and TIME have enjoyed a six-year partnership that celebrates award-winning service and performance that make the world a better place.
A History of Excellence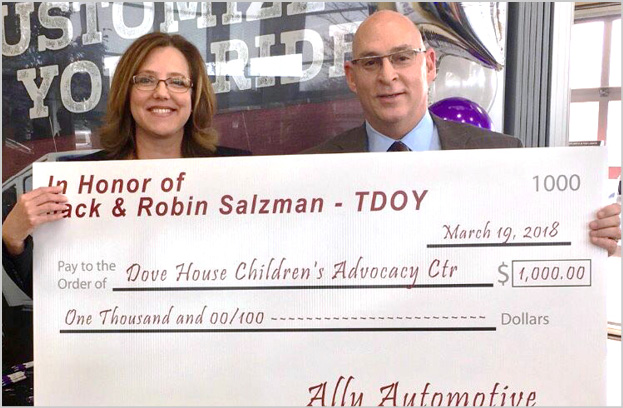 Jack Salzman, the current TIME Dealer of the Year chooses to support Dove House Children's Advocacy Center as a part of his way to give back to the community.
What makes a TIME Dealer of the Year
Personnel training and record of service
New and used vehicle sales performance
Physical plant and facilities
Dealer association participation
Service to the community through civic, political and educational activities
To learn more about the judging criteria for the TIME Dealer of the Year award Winner, visit:
The Most Prestigious Honor a New Car Dealer Can Receive
"I didn't choose the car business because I'm wild about cars… I get excited about what cars can do for people. Cars affect our lives in so many ways—and no family can function without a dependable car."
"We pride ourselves on searching out quality employees and providing them with the tools and support they need to grow from entry-level jobs up to top management positions within the company"
"My name is in the phone book. You have a problem with your car, you can call me. One woman did—at 2:30 in the morning—during a blizzard. You know what I did? I got up, and started her car. That's what you do. That's the way you should run a business."